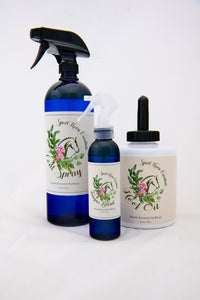 SHE Shine Package
Sport Horse Essentials
Regular price $0.00 $107.00 Sale
SHE Shine Package
*REMEMBER TO SHAKE WELL 
*The SHE Shine Package includes a Coat Spray, a Hoof Oil, and a Fungus Blend.
*Daily recommended use, spray the SHE Coat Spray all over the horse, including mane and tail to help bring out the shine and the healthiest your horse's coat can be. The Hoof Oil gently condition the hooves and gives them a nice shine. The Fungus Blend has oils with amazing antibacterial properties, that are great for healing open cuts and wounds, and fighting off fungus while also promoting hair regrowth. No more nasty goopy creams just a few sprays is all you need!
With all natural products that have oils and water, a natural separation of liquids will occur. Remember to shake well to incorporate ingredients for best results.