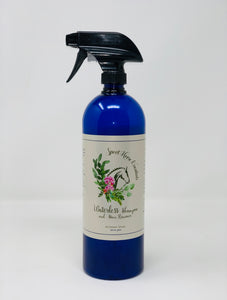 Waterless Shampoo and Stain Remover 32oz
Sport Horse Essentials
Regular price $0.00 $35.00 Sale
OUR NEW 32oz Waterless Shampoo
$35.00
Whether it's too cold to bathe or want to skip the hassle of the hose for stains, this is the product for you! Aritha powder is a natural cleansing agent while Witch Hazel and Aloe Vera help wipe the dirt away. Our natural essential oil blend helps fight fungus on the coat and with a light coconut scent, you'll love using it too! 
*REMEMBER TO SHAKE WELL
-Safe for Horses
-Effective
-Non-Greasy Formula
-Can be applied to Saddle Area
Directions:  Spray directly on stains or dirt on horses coat. Use towel or brush to remove.  
Ingredients:  Witch Hazel, Aloe Vera, Fractionated Coconut Oil, Aritha Powder, Natural Essential Oil Blend.
*With all natural products that have oils and water, a natural separation of liquids will occur. Remember to shake well to incorporate ingredients for best results. 
*All ingredients have been carefully selected to abide by the banned substance list for USEF and FEI.