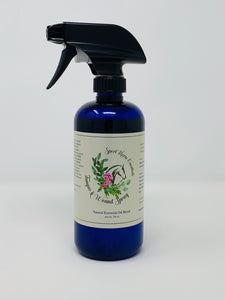 Fungus and Wound Spray 16oz
Sport Horse Essentials
Regular price $0.00 $60.00 Sale
Fungus and Wound Spray

$60.00    16oz
Our Fungus Blend is full of essential oils like Frankincense and Myrrh that date back to biblical times. They have MANY antibacterial properties, which are great for cuts and wounds, tough on fungus, and rain rot while also promoting hair regrowth.  No more nasty creams, just shake and a few sprays of our Fungus Blend will do the trick. 
100% all natural essential oils kill fungus gently.  No need for harsh chemicals and the benefits of all natural are healthy for your horse.  Our whole line of products was made for the health and happiness of your horse in mind.  Watch the video here of "Gasoline" being treated with our Fungus Spray! 
He's so thankful it's good for him! 
*REMEMBER TO SHAKE WELL 
-Safe for Horses
-Effective
-Non-Greasy Formula
-Can be applied to Saddle Area
Directions: Spray to affected area as needed to treat skin irritations and fungus.
Ingredients: Natural Essential Oil Blend, Fractionated Coconut Oil, Castor Oil, Coconut Glycerine, Witch Hazel, Aloe Vera, White Distilled Vinegar.
*With all natural products that have oils and water, a natural separation of liquids will occur. Remember to shake well to incorporate ingredients for best results. 
*All ingredients have been carefully selected to abide by the banned substance list for USEF and FEI.