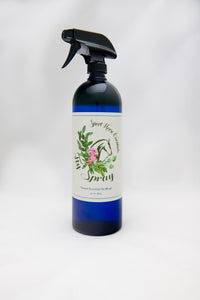 Fly Spray 32oz
Sport Horse Essentials
Regular price $0.00 $36.00 Sale
Fly Spray
100% all natural and your horses will love it.  Have you ever used a chemical fly spray in the stall and nearly choked from the fumes?  This was our inspiration for beginning to develop this line of horse care products. After years of being mindful as to what I put in and on my body, it made sense to have the same for my horses.  Our product line is safe and effective.  There is no need for chemicals, as nature has provided us plant based material that fits the need.  All natural essential oil blends will keep  your horse free from the flies and give the coat a lasting and non greasy shine. 
Check out the video here to see our Fly Spray applied to "Gasoline" one of my beloved horses.  
*REMEMBER TO SHAKE WELL 
-Safe for Horses
-Effective
-Non-greasy
-Can be applied to Saddle Area
Directions: Spray as needed to repel flies, mosquitoes, and insects.
Ingredients: Natural Essential Oil Blend, Sesamum Indicum Oil, Sodium Borate, Vegetable Glycerine, White Distilled Vinegar, Witch Hazel.
*Our mission to you is to make all natural products with NO chemicals ever. SHE Fly Spray is made with a blend of essential oils and carrier oils, that absorb into the skin without that greasy feeling! Some of the oils used in our Fly Spray have antibacterial properties in them, to help promote a healthy coat, while also being an amazing repellent.
REMBER all natural products can sometimes need to be applied more often than ones full of chemicals.
*With all natural products that have oils and water, a natural separation of liquids will occur. Remember to shake well to incorporate ingredients for best results. 
*Recommended use to follow after SHE Coat Spray for BEST results.
*All ingredients have been carefully selected to abide by the banned substance list for USEF and FEI.