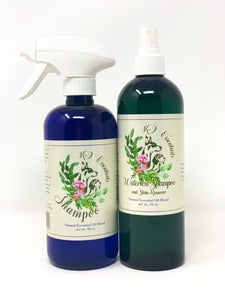 K-9 To Bathe or Not To Bathe
Sport Horse Essentials
Regular price $0.00 $43.00 Sale
$43.00
16oz Waterless Shampoo Stain Remover & 16oz Shampoo 
This set gives you the best of both worlds. Waterless Shampoo & Stain Remover for quick removal of dirt and stains and traditional shampoo for when they need a good bath! 
Whether you don't have time or want to skip the hassle of bath time, this is the product for you! Aloe and Witch Hazel gently remove dirt and stains from the coat while Eucalyptus and Cedarwood help fight fungus on the coat. 
Give your dog a beautiful and natural shine with our all natural Shampoo. It gently lifts away dirt, leaving a beautiful glistening coat. Our easy to use, spray on formula is so easy to apply and smells so good, you will be hooked. Just spray it on, massage into the coat, and rinse away!
-Safe for any breed of Dog over 8 weeks of age
-Effective
-Non-Greasy Formula