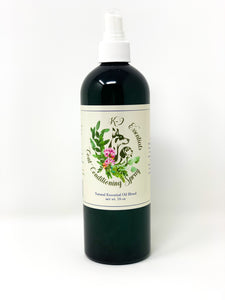 K-9 Coat Conditioning Spray
Sport Horse Essentials
Regular price $0.00 $23.00 Sale
$23.00                16oz

The oils and essential oils used in the Coat Spray have many antibacterial properties, which help you maintain a healthy, shiny coat all year long! The oils we use in our spray help draw the dirt to the surface of the coat, making it a breeze to get your dogs clean all while keeping it the healthiest it can be!
-Safe for any breed of Dog older than 8 weeks
-Effective
-Non-Greasy Formula
Directions: Shake well every 3-4 sprays. Spray directly all over, avoiding eyes, to moisturize and condition coat. 
Ingredients: Alcohol-Free Witch Hazel, Aloe Vera, Castor Oil, Vinegar, Distilled Water, Sesame Oil, Jojoba Oil, Fractionated Coconut Oil, Vegetable Glycerin, Eucalyptus Essential Oil, Geranium Essential Oil, Cedarwood Essential Oil. 
*With all natural products that have oils and water, a natural separation of liquids will occur. Remember to shake well to incorporate ingredients for best results.