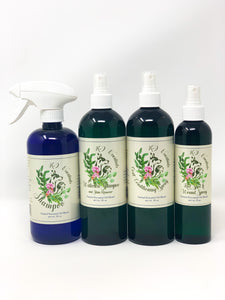 K-9 The Whole Doggon Set
Sport Horse Essentials
Regular price $0.00 $88.00 Sale
$88.00
16oz Waterless Shampoo, 16oz Shampoo, 16oz Coat Conditioning Spray, 8oz Hot Spot and Wound Spray. 
This set comes with every product in our line to help keep your dog looking and feeling 100! 
Whether you don't have time or want to skip the hassle of bath time, this is the product for you! Aloe and Witch Hazel gently remove dirt and stains from the coat while Eucalyptus and Cedarwood help fight fungus on the coat. 
Give your dog a beautiful and natural shine with our all natural Shampoo. It gently lifts away dirt, leaving a beautiful glistening coat. Our easy to use, spray on formula is so easy to apply and smells so good, you will be hooked. Just spray it on, massage into the coat, and rinse away!
The oils and essential oils used in the Coat Spray have many antibacterial properties, which help you maintain a healthy, shiny coat all year long! The oils we use in our spray help draw the dirt to the surface of the coat, making it a breeze to get your dogs clean all while keeping it the healthiest it can be!
Our Hot Spot and Wound Spray is full of essential oils, that date back to biblical times. They have MANY antibacterial properties, which are great for cuts and wounds, tough on fungus, while also promoting hair regrowth.  No more nasty creams, just shake and a few sprays of our Hot Spot and Wound Spray will do the trick. 
100% all natural essential oils kill fungus gently.  No need for harsh chemicals and the benefits of all natural are healthy for your dogs.  Our whole line of products was made for the health and happiness of your dog in mind.  
-Safe for any breed of Dog over 8 weeks of age
-Effective
-Non-Greasy Formula