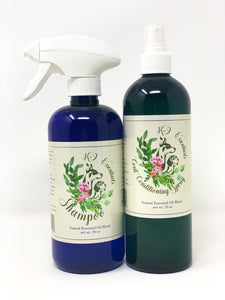 K-9 Bath Time Set
Sport Horse Essentials
Regular price $0.00 $43.00 Sale
$43.00
16oz Shampoo and 16oz Coat Conditioning Spray 
This combo set is everything you need for bath time. You'll love our Spray-On Shampoo and follow it up with our Coat Conditioning Spray!
Give your dog a beautiful and natural shine with our all natural Shampoo. It gently lifts away dirt, leaving a beautiful glistening coat. Our easy to use, spray on formula is so easy to apply and smells so good, you will be hooked. Just spray it on, massage into the coat, and rinse away!
The oils and essential oils used in the Coat Spray have many antibacterial properties, which help you maintain a healthy, shiny coat all year long! The oils we use in our spray help draw the dirt to the surface of the coat, making it a breeze to get your dogs clean all while keeping it the healthiest it can be!
*REMEMBER TO SHAKE WELL 
-Safe for any breed of Dog older than 8 weeks 
-Effective
-Non-Greasy Formula